Ukraine is the world's centre of attention today, as it faces a full-scale war. Despite the difficulties brought by 2022, our company in Ukraine remains at its customers' side and provides them with outstanding support to implement the best sustainable practices to manufacture flexible packaging.
We asked Oleksandr Minchenko, Sales Director at Gualapack Ukraine, about the ways the company is tackling the situation and continuing to develop despite the war.
– Oleksandr, hello! First of all, we must express our support and say we admire your courage. We are proud of how fearlessly you and your team have faced the past year and successfully continued to grow business. Can you share with our partners and customers what challenges you are currently experiencing, and how you plan to manage them?
Hello! First of all, thank you for your support. We can feel how much you care and help here in Ukraine, and it gives us the strength to go on. Every day, the Gualapack Ukraine team strives to maintain our service at a high level and to satisfy all of our customers' needs. We never interrupted our activities even for a single day, and continue to manufacture and supply top-quality packaging to the Ukrainian and European markets.
When the war started, we realised that we had to immediately diversify our production in order to guarantee we could fulfil the obligations we had with our customers: we opened another production site in Ternopil, located in western Ukraine, and accepted the support of our colleagues from Gualapack Nadab in Romania. In a nutshell, we know that in case of an emergency, we can count on using our colleagues' production facilities to fulfil our customers' orders on time and in full. This allows us to quickly respond to the instability and the challenges caused by war. In addition, we equipped ourselves with alternative sources of energy: if the central power supply fails, we are able to continue our production processes relying on the backup generators we purchased. We had to become more flexible, but now we are prepared to quickly adapt as the situation in our country evolves.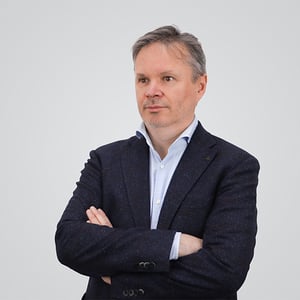 – We all understand that the beginning of the war meant losing two important markets: Russia and Belarus, which represent the largest share of the market comprising Eastern and Central Europe and the Commonwealth of Independent States (CIS). How have you adjusted the course of your development?
Naturally, we had to transform as a company under the conditions of war. However, we were able to tackle some of the changes implementing strategies in our favour. For example, the beginning of the war forced us to review the terms we had with our customers, and to look for new ways to provide raw materials to them; the result is our supply chain is now stronger than ever, primarily thanks to the support of other Gualapack plants and our close collaboration with them.
In addition, last year we started active sales development in the Western market. In order to better approach European customers, in 2022 we opened an office in Poland and began working with Polish companies. We offer excellent service, optimal lead-time and interesting packaging solutions.
Finally, we also actively diversified our product portfolio. In 2017, we pioneered the pet food packaging market: in addition to traditional pouches and caps for baby food, condiments and coffee, and tube laminates for cosmetics and pharmaceuticals, we began to develop and manufacture flexible, ecological packaging for pet food. We have various success cases of cooperation with pet food brands in Ukraine, and are ready to offer our product to new markets: we plan to continue our development in this field in Europe.
– Would you like to share with us your most recent successes? Have you got any interesting projects underway?
Despite being forced to live at war, our main goal is always to ensure the highest quality of production. We continue to undergo certification audits for compliance with the most stringent global quality standards for food packaging. In 2022, we confirmed our compliance with ISO 9001:2015, ISO 14001:2015, ISO 50001:2018, and ISO 45001:2008 standards, and we are currently in the re-audit process for compliance with the BRC global food safety standard as well. As part of our close collaboration with customers, we also undergo external online audits for compliance with their quality management systems. For example, we are proud to have successfully passed strict audits with different leading global companies in the food industry.
Like we always have, we continue to introduce our products to new customers and win new contracts for flexible packaging supply. In addition to quality aspects, we invest in new technologies to keep up with society's modern needs. One of our latest developments is the manufacture of a laminate for the confectionery industry using cold seal technology. We are also currently working on the development of environmentally friendly packaging monomaterials that are 100% recyclable. We uphold our policy of sustainable development and strive to take care of the environment, despite these difficult times for Ukraine.
– What are your plans for 2023?
What every Ukrainian wishes for 2023 is to win the war, rebuild the country, and become a strong member of the European Community.
At Gualapack Ukraine, we are ready to do our part: we know we can contribute to the country's growth by strengthening our business, investing in the development of local territories and minimising the industry's impact on the environment for future generations.